| | | |
| --- | --- | --- |
| | Michael Hooker Microscopy Facility (MHMF.ORG) | |
Using the LeicaSP2-AOBS Confocal Microscope
Click here for printable version

1. Powering Up
1.1 Assess the status of the system
1.2 Turn on mercury arc lamp, microscope stand and scanner
1.3 Turn on the required laser(s)
1.4 Log into WindowsXP
2. Viewing the Sample (microscope only)
2.1 Setting the stage (general information for fluorescence or transmitted light viewing)
2.2 Transmitted light (specific setup instructions)
2.3 DIC/Nomarski (if required)
2.4 Fluorescence
3. Starting the Confocal Scanning Program
4. Scanning the sample
Image Overlay
5. Saving Images (brief description--this section is incomplete at this time)
6. Shutting Down - All USERS MUST FOLLOW SHUT DOWN PROCEDURES CAREFULLY
7. Confocal Scanning Tasks (this section is incomplete)
- X-Z Scanning (brief description)
- Z-series (brief description)
8. Image Processing (this section is incomplete at this time)
- Adding Scale Bars to your image (requires the full Leica LCS software)

** If you have any questions, please contact a facility director **
---
Click here for printer-friendly version
| | | |
| --- | --- | --- |
| | Michael Hooker Microscopy Facility (MHMF.ORG) | |
Using the LeicaSP2-AOBS Confocal Microscope
** If you have ANY questions, please contact a facility director **
1. Powering Up - assuming entire system is off
1.1 Assess status of the system
Check that anti-vibration air table has proper air pressure >30 p.s.i. (60 p.s.i. ideally)
Check under anti-vibration table to ensure all four legs are floating

If not, adjust red knobs so that flat black bars are roughly horizontal on left rear leg and both front legs
Gap between the black rubber and metal disks at the top of each leg should be about 5 mm

If arc lamp and lasers are already running, leave them on
1.2 Turn on mercury arc lamp, microscope stand and scanner
If the Arc Lamp is off:

Ensure the lamp house is cold (upper black box on the left side of the microscope)
Ensure that the green system lights are off

Starting the arc lamp the microscope with the stand powered up &/or the computer and scanner may cause damage. Ideally these should be gracefully powered down before the lamp is started.

Then turn on Mercury Arc Lamp [1]
Wait for lamp to ignite and stabilize (light output is steady with no flickering)

[2] Turn on microscope controller stand (on floor)
[3] Turn on PC Microscope switch
[4] Turn on monitors if necessary
[5] Turn on red Scanner Power switch
Turn on green Laser Power switch [6]
1.3 Turn on the required laser(s)
**Only turn on laser which are required for the dyes in your samples**
Properly power down any laser which is not required (see section 8 below)
[6a] Blue Argon (488 nm) (for typical green-emitting dyes/proteins such as FITC, GFP, Cy2, AlexaFluor488, etc)

Controls located on the left side of the black control panel on the right side of the computer desk
Ensure laser power is set to minimum (pointing at 7 o'clock)
Turn rocker switch to "ON"
Turn key to "Start" and release. The key will jump back to the "ON" position (like the ignition of a car).
Wait 30 seconds and turn power knob to about 9 o'clock for blue Argon laser

[6b] 561 nm Solid State laser (for red-emitting dyes/proteins such as TRITC, Cy3, Texas Red, Rhodamine, etc.)

Located on the desk shelf next to the right-hand monitor
Push green "ON" button
Two orange "LASER Emission" LEDs on the control box indicate the laser is firing

[6c] UV (351 & 364 nm) laser (e.g. for DAPI, Hoechst or other blue-emitting dyes)

Power supply is located on the floor on the right side of the desk
Ensure laser power (tube current) is set to minimum (counter-clockwise all the way)
Turn main power switch to "ON" (this is kind of difficult)
Turn key to "ON"
Wait approximately 37 sec. for a short high-pitched sound
After the sound, turn the Laser Power knob one complete turn (clockwise)

[6d] Red HeNe (633nm, for far-red emitting dyes like Cy5)

Turn key to the "ON" position (located in the upper right corner of the black control panel)
3. Starting the Confocal Scanning Program
Start Leica Confocal Software (LCS)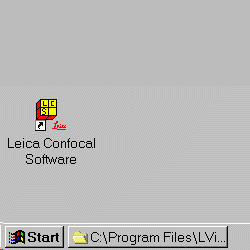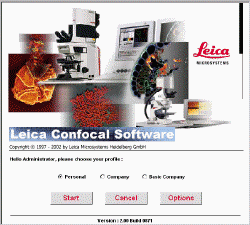 Choose Personal - usually selected by default
Press Start button - program will start automatically after startup screen has been open (~45sec)

The LCS program places windows on both screens. Left side are control functions and right side are display functions.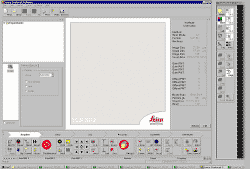 Note that button positions are user customizable. Their actual positions may be different on your login account.
Ensure the Acquire arrow button is depressed
2.1 Setting the stage (general information for fluorescence or transmitted light viewing)

Lower stage using coarse focus button
Clear upper limit (+set butons on right of stand) and lower limit (+set) until LCD displays --.-- um (bottom row)
Place slide in holder
Choose objective and apply a small drop of immersion oil if appropriate

If the objective has a correction collar ensure it is set

Use coarse focus to bring stage up to objective. Watch stage carefully and stop when slide touches objective
Check focus step z-fine/z-coarse on right side of side of stand.

Set up microscope for transmitted light or fluorescence as described below (some steps may be duplicated)
Select I3 (FITC long pass - blue light) or N2.1 (Texas Red band pass - green light) filter cubes on front of stand
Look down eyepieces and focus away from sample
Repeat above 3 steps if sample focus is not found. Note that moving slide slightly with stage x-y controls may help in identifying sample
Avoid trying to find focus by focusing towards the sample, since it is easy to break the slide with the focus motor drive
Once the sample is in focus, set the Upper Limit by pressing and holding the upper limit button ( +set). Focal level will set to 0um
Change objectives by using the software Obj button or by moving the stage down with the course focus, gently changing the objective by hand, and using the coarse focus to return the slide to the 0um focus position.
The sample should be roughly in focus when switching to other objectives
Do not set the lower limit
For fluorescence only go to section 2.4 (skip sections 2.2 & 2.3)
2.2 Transmitted light (specific setup instructions)
Turn on transmitted light (L1) - turn wheel towards front
Ensure transmitted light detector is out of light path (R2)
Open field aperture (L2) (pull towards the front)
Close condenser aperture to minimum (L3) by pushing towards the back several times.

This creates maximum depth of focus, and therefore max. contrast

Check that the condenser lens is close to the under side of the slide. Focus it if necessary (L4)
Turn condenser Wollaston prism (F1) to H for bright field
Choose objective.
If using oil immersion lens only, add a drop of Leica immersion old

Important: thoroughly clean off any non-Leica immersion oil already on the slide

Switch out the Wollaston DIC prism ABOVE the objective (F2). Choose BF (for bright field) position
Ensure Analyzer polarizer (L6) is out of the light path
Select blank or DAPI fluorescence filter position (R3) = "--" or "A", respectively, on microscope LCD display
Ensure light path switch (L7) points to eye pieces and not the scan head
Focus on sample as described above (section 2.1) - set step size (R4) as required. 0 & 1 for fine - 2 or 3 for course
2.2a For Imaging transmitted light, set up Kohler illumination
Kohler illumination is not important for fluorescence or confocal imaging.
However, if simultaneous confocal and transmitted scanning are done, Kohler illumination should be set up
Reduce field aperture (L2) to minimum (push towards the back)
Check that condenser aperture (L3) is at minimum (push towards the back until the light intensity stops changing)
Focus condenser (L4) until diaphragm edge is in focus (note may have to move centering deliberately off axis to see edge of field diaphragm)
Re-center condenser if necessary using the centering screws below the condenser
Open field aperture (L2) until it just fills the field of view as observed through the eye pieces
Open condenser aperture (L3) to maximum (pull towards you 6-8 times)
Microscope is now set for Kohler illumination, which gives the best resolution
2.3 DIC/Nomarski - (if required)
Set up for Kohler illumination first as described above in section 2.2a
Switch in lower polarizer (R5) (usually already in)
Switch in Analyser (L6) and ensure that the adjustment lines are aligned
Ensure objective (L8) and condenser (F2) Wollaston prisms are switched out (set to H & BF respectively)
Adjust lower polarizer (R5) by gently rotating back and forth until you see extinction (greatest darkness) --polarizers are now crossed
Switch in Wollaston prism at the condenser (F2) for appropriate objective --see chart taped to scanner to see which number to select
Switch in Wollaston above objective (L8) for appropriate objective --use chart taped to scanner to see which letter to select.
Adjust the contrast level using the Wollaston adjustment screw (F3) --a grey field gives maximum resolution, although contrast is not large
Note: For simultaneous confocal with DIC scanning, set up as above and pull out the Analyser before scanning (it is not required since laser light is already polarized light)
If using fluorescence only (no transmitted light imaging), choose the BF position in the Wollaston prism ABOVE the objective (F2).
Turn off incandescent lamp (L1)
Ensure Analyser (L6) is pulled to the out position - note analyser reduces fluorescence by 50%!
Ensure light path (L7) is switched to eye pieces
Open Fluorescence arc lamp shutter (R6)- red LED should be off
Choose dichroic (R3) for fluorophore - see chart taped to microscope and read letter on LCD display
Focus away from objective with fine focus knob
Set upper limit if it has not already been set
Saving

Save All and choose data base name
Can right click on scan and rename it
For multi-channel scanning - IMPORTANT - Check for bleed through and cross talk. While scanning, use the AOTF to reduce laser power of the longer wavelengths. Image for the longer excitation wavelengths should disappear. If it does not, you will need to use sequential scanning!
Set amount of averaging using Li.A (line averaging) or Aver (frame averaging). Noise reduction is proportional to the square root on the number of lines + frames which are averaged.
Press Single to do a final scan with averaging
Image file will appear in the Experiment
To save the overlay, right click on the overlay panel and select Send to -> Experiment -> Selection (raw). The overlay image file will appear in the Experiment box with a random name.
5. Saving Images (brief description below)
Press Save button on menu bar
On first save, a dialogue box will open and requests a "file name". Note that this is really going to be the directory name where the images are stored.
When new scans are made, press save to transfer images from temporary location to the hard drive.
You can re-name the image by right-clicking on the name and selecting Rename. NOTE: image names are limited to 20 characters
Any time you press the Save button on the top menu bar, you will update the folder on the hard drive to reflect what is shown in the Experiment window of the LCS software.
Return to looking through the microscope by pressing the MicCtrl button and choosing Visual
---
6. Shutting Down - ALL users MUST follow these shut down procedures carefully
Always turn laser power knobs to minimum on Argon (488nm) [6a] and UV [6c] lasers (**leave key(s) and switch(es) ON**)
Check LeicaSP2 booking page to see if another user is arriving within the next 1 hours.

If someone is coming within 1 hour

Leave lasers on; Argon [6a] and UV [6c] lasers at minimum power

If it is more than 1 hour before the next user:

If the Argon [6a] and UV [6c] lasers are not already at minimum power, then let lasers run at minimum power for ~2 minutes
After ~2 minutes at minimum power, turn each key to "OFF" but leave the power switch "ON" for at least another 5 minutes (until the Argon laser temperature is 30°C or less)

Lower microscope stage and clean all immersion lenses used by:

Gently blotting front lens element with lens tissue (never Kim Wipes) and rub around objective cone. DO NOT RUB OVER OBJECTIVE LENS GLASS

Always be very gentle when handling objectives
Log off from Windows - use ctrl-alt-del & press Log Off button
Leave Computer on, please do not shut it down!
Clean stage
If the next user is more than 1 hour away, Turn Off:

Lasers

[6a] Argon: ONLY AFTER it has cooled with key in "OFF" position for at least 5 minutes or the temperature is less than 30°C

If the Argon laser is taking a long time to cool down, turn off the Scanner [5]

[6b] 561nm solid state: Press the RED "OFF" button
[6c] UV: ONLY AFTER it has cooled with key in "OFF" position for at least 5 minutes

[5] Scanner
[2] Microscope stand
[1] Mercury lamp (OFF LAST)

Place cover on microscope, but avoid covering the hot mercury lamp housing
Clean up tissues, immersion fluid spills, etc.
Sign log book, note time finished and please note any problems you had during your session
Close the door and make sure it is locked when you leave
---
Single channel
Multiple channel
Bleed through/cross talk during simultaneous imaging
Averaging | zooming |
Z-series (brief description below)

Set up as for xy mode scanning as described in section 4 above
Ensure Begin and End are not depressed (grayed)
Start Continuous scan
Focus to top position and press Begin
Focus to bottom focal position and press End button
Stop scanning
Press Section button and choose Other

Enter step size into box next to Step Size

See this table to determine step size (hard copy is at confocal computer table)
The step size is ~0.5X the optical section thickness. (step sizes: pinhole=1 Airy disk, use ~0.3um for 100x, ~0.4um for 40x, 0.9um for 16x)

Press the <- Calculate button beside Sections box
Click OK

Select averaging factor, e.g. line average of 8
Hit Series button to start scan.
Note: display windows may be changed between overlay/channels gallery, etc. while scanning
Save scans in same way as single XY scan
Projections may be created or viewed by hitting View button. Choices include maximum, average. Projections may be saved by right clicking on projection and choosing Send to -> Experiment -> Selection (raw)

DIC
X-Z Scanning

Click the Mode button in the Beam window
Choose "xzy" (second choice from the top)
IMPORTANT notes: ou may need to change the

Remember to check that the gain and offset are set appropriately
The optical zoom may change!
When in xzy mode, the "Z POS" knob on the Instrument Panel moves the location of the scanned line along the Y-axis.

Serial Sections
Time Lapse
FRAP
Ratio Imaging
Spectral scans
Reflection interference
Creating multi-channel color overlays
Adding Scale Bars to your image(s) using the Leica LCS Software (under construction)

In the Experiment Image window, select the Tile view
In the Control Window (left screen)

Select the Display icon on the left side
Check the □Scale box just to the right (may be hidden by the Beam or Sequential Imaging windows)
You should see the scale bar on each panel of your image

To adjust the size or location of the scale bar using the full version of the software:
NOTE: This is not available with the free LCSLite version

You need to have the Scale Bar Configuration button in the View section of your Tool Bar

Select the View arrow in your Toolbar
Go to the menu bar item "Tools" (top of the screen)
Select "Customize..."
Select View from the list on the left side of the window
Click and drag the Scale button (last one) into your Toolbar

To save image(s) with scale bar printed

Work in the Experiment Image window
VERY IMPORTANT: Select the Display button and choose "1:1"

Don't worry if the edge of the image(s) go off the screen

Select the color you want each component to be saved as by clicking the Q LUT or OVL buttons
Right-click in the image component you want to save
Select Send to -> Experiment -> Selection (Snapshot)

Changing Look Up Table (LUT) of Acquired Image
Creating extended focus and maximum images from stacks
| | |
| --- | --- |
| | Last Updated: 2015-07-07 |
---